Boxing MMA Insurance in Pennsylvania
Boxing & Mixed Martial Arts Insurance Specialists
Insurance Coverage for Boxing, Mixed Martial Arts, Kickboxing, Wrestling, and Toughman
BCI has been a leader in the Boxing and Mixed Martial Arts Insurance market for many years.
We are proud to offer our unique program with benefits that surpass other insurance providers while offering an affordable rate. Enrollment is extremely easy with our one-page applications.
Coverage is available almost immediately. If needed, we can provide confirmation to your state boxing commission within an hour.
About Boxing & MMA Insurance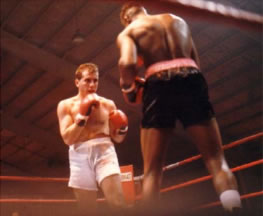 Participant Accident Insurance Coverage Who is Covered: The program provides protection for all participants of the policyholder while participating in the policyholder sponsored event. Our program also covers the events officials (referees, judges, etc.) Most of our competitors do not cover the officials.
Medical Benefit: The policy provides Excess Medical protection for eligible expenses as a result of a covered injury. "Eligible Expenses" include charges for the necessary medical treatment and service, not to exceed the Maximum Medical Expense Benefit as indicated on the policy benefit page. Limits are offered from $2,500 up to $50,000 or more.
Accidental Death & Dismemberment: If a covered injury results in death or dismemberment as specified in the policy, the company will pay the applicable amount as set forth on the policy benefit pages.
General Liability Insurance Coverage
This program (separate from the Accident Insurance policy) provides protection for the promoter, employees, staff and volunteers against claims of body injury liability, property damage liability and the litigation costs to defend against such claims. There is no deductible for this coverage.
Claims Service
BCI understands that claims need to be processed in a swift and professional manner. Claim forms are supplied and the claim process is quick and easy.
Quick Quote/Application
Quick Quote: Forward the attached application (Accident Medical and/or Liability) to our office via fax, email or regular mail and we will promptly offer you a quote
Application: Submit attached application(s) to our office via fax, email or regular mail and we can bind coverage.
Payment/Policy Issue
Same Day Policy Issue
Pay by Credit Card or Check
Post Event Reporting for Number of Bouts: Not sure how many bouts you will have?? No problem, simply estimate that number of bouts, report the actual number of bouts to us the day after the event, and we will adjust your premium accordingly.
Need an insurance quote? Get in touch!
Access quotes from Pennsylvania's most trusted insurance carriers. It's comparison shopping at the click of a mouse.